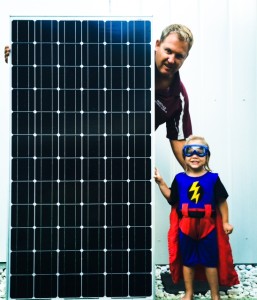 Dave McDonald, his daughter "Solar girl" and family, have made Mooloolah their home because they value community. David and his brother Troy McDonald are solar power specialists running McDonald Solar and Electrical. They are passionate about quality and value solar power, having installed around 1100 systems on the Sunshine Coast over the last 7 years. Many local clients value their service for being friendly, helpful, quality installers andcommunity members.
Dave has a simple message about the value of solar. If you went to the bank with $5000- $6000 and they offered to give you $3600, plus a minimum of 10%-20% return per year on your investment, guaranteed over 25+ years, increasing over time, you would grab it with both hands. Essentially, that is what solar power offers and more. "Even after the removal of the 8c feed in tariff, solar power still offers a huge return on what is a small investment, which will only get bigger as electricity prices increase" Dave added.
"Australians love new cars, but their value depreciates quickly. In fact, the average new car will depreciate in value equivalent to the cost of a 5 kW solar system within a couple of years. So, if you're planning to stay in your home for 3 years or more, it's a no-brainer to get solar power installed." Dave says.
The government is still offering incentive of around $3600, to help with the upfront cost of purchasing a 5kW solar power system. However, these incentives are consistently being looked at and how long they last for is anybody's guess. What this means is, that if you are considering or have ever thought about purchasing a solar power system, Dave suggests you should act now.